---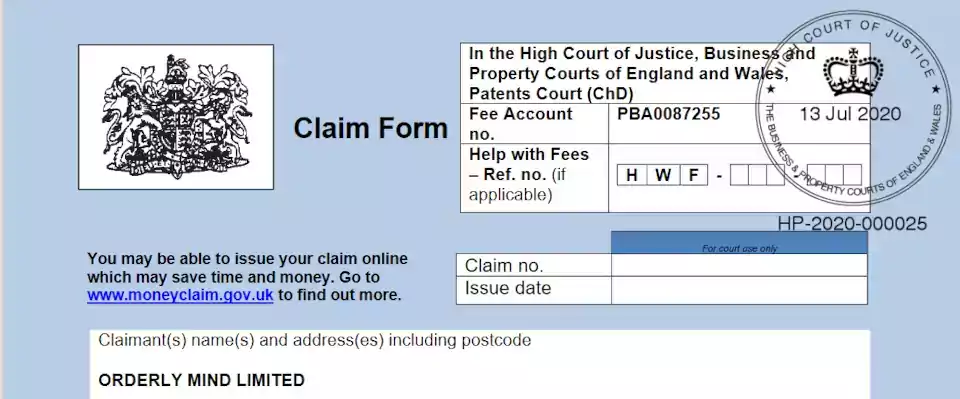 Update: Within three days of issuing this press release, Queue-it have removed their customer list from their web site. We are producing a Fact Check media pack with screenshots of our saved copy.
Update: Queue-it have chosen to challenge the jurisdiction of the High Court, rather than defend the claim. They have also changed their demonstration site (when it is working at all) to remove the queue from where we told people to check for themselves that Queue-it does perform all the steps of our independent granted process claim, so you can check this with the video below. Instead, they are showing an article about Webbooking. According to this article, Webbooking facilitated a traditional waiting list for families awaiting holiday activity spaces to open up when fully booked, rather than a website queue. Furthermore, the priority date for our patent is 2004, and Webbooking is from 2005. There is therefore nothing to suggest that Webbooking is prior art.
Queue-Fair seeks injunction against Queue-it for infringement of European patent
London, UK: British tech company Orderly Mind Ltd which invented the first queue-based virtual waiting room to help retailers and ticket sellers manage online customer bottlenecks, has served a High Court claim for an injunction and damages against Queue-it, a private Danish owned company, for patent infringement.
Orderly Mind Ltd founder Matt King filed the patent for his system now available at https://queue-fair.com in 2004 with the European Patent Office. The patent is granted and valid until 2025 in the UK, Ireland and several other European countries. Mr King developed the Virtual Waiting Room system as a method of coping with website traffic congestion to prevent website crashes after he tried to secure tickets for Glastonbury.
His Queue-Fair invention is operated by The Fair Queue People Ltd, part of the Orderly Mind group. The claim has been filed against Queue-it, which provides a queuing system and service, and counts multiple high profile UK companies and arts institutions among its clients.
Records show that Queue-it applied for a European Patent in 2010 but its application was rejected on the grounds that the technology it sought to protect was neither novel nor inventive over the patent filed by Mr King. Queue-it abandoned its application and does not currently hold a patent in Europe or elsewhere.
Mr King said that to avoid litigation, Queue-it should have applied for a licence to use his invention, something that it failed to do.
As a result, Orderly Mind is seeking to stop Queue-it's unauthorised working of its invention and to recover financial compensation for infringement of the European Patent.
Queue-it has profited from the Covid-19 crisis, adding many UK companies as customers as more people choose to shop online. The company has attracted VC investment and investment from The State of Denmark to expand in Europe and worldwide.
"Queue-it's queuing system and service is an implementation of our invention as claimed and fully described in our granted European Patent," said Mr King.
"It came as quite a shock to find that my invention has been worked over 12 billion times without my knowledge or permission, as is claimed on Queue-it's website, something I realised while buying begonias online last spring.
"Queue-it's past and ongoing commercialisation of its queuing system and service is an act of infringement in the UK, contrary to section 60 of the Patents Act 1977. It is also our belief that Queue-it has infringed and is continuing to infringe our patent in other European countries where it is in force and is also infringing our patents around the world."
PRESS RELEASE ENDS
Media Contact: Susann Jerry
January 11th 2021
E-Mail
botblocker@blah.com

Background Notes
Queue-Fair, previously known as OrderlyQ Internet, is now available through The Fair Queue People Ltd which is part of the Orderly group. The Orderly group also includes Mr King's award winning WeQ4U app which has had close to two million downloads in the UK and has a 4.9 out of 5 star rating on the Apple Store, Google Play and TrustPilot. WeQ4U won the Real Business Future 50 People's Champion award in 2012. The app queues for callers so they do not have to stay on hold on the phone, automatically connecting them when an agent answers, as well as saving them around 45p per minute on their 084 and 087 calls.
London-based entrepreneur Mr King appeared on BBC Dragon's Den last summer.
---