---
---
Adding Queue-Fair
The Queue-Fair Virtual Waiting Room is easily added to a wide variety of web and app platforms in minutes. Just use one of our Adapters. You can find more information about the best way to integrate Queue-Fair with your existing system in the Technical Guide, or the Queue-Fair Portal > Help section. If you are looking for information on how to stop bots or humans from making multiple orders, or protect your NFT sales from excessive gas fees, you can read this overview or get full detail in the Security Guide section of the Portal.
The Client-Side Adapter
For websites, the simplest way to integrate with Queue-Fair is to add the Client-Side Queue-Fair Adapter JavaScript tag to your pages. You can safely add the Adapter to all the pages on your site, and use the Activation Rules in the Queue-Fair Portal to determine which pages may throw a queue.
Because it runs in your visitors' browsers, the Client-Side Adapter can be disabled by technically skilled visitors, but is very effective at preventing overload as only a very small minority of people will attempt to skip the queue by tampering with the JavaScript. Most of our customers use the Client-Side Adapter because it is effective at preventing a crashed site, simple to install and does not introduce any dependency between our system and yours.
You can add a security layer by replacing the JavaScript tag with a Server-Side Adapter, or combine the flexibility of the JavaScript Adapter with the Hybrid Security Model described on this page; both methods are then secure.
Single Line of Code
To add the Client-Side Adapter to your site, just add the following single line of code to the <head> section of your pages:

Some customers add the word defer to the tag, which causes the Adapter script to be downloaded in parallel to parsing the page and also to only start execution of the script in the visitor's browser when the page has finished parsing (so typically after any other scripts on your page have finished).
Adding the word defer can improve Time to First Paint by a small fraction of a second in some cases, but if you choose to do this it will mean that any visitors that should be queued will see your protected page for a fraction of a second longer before they are sent to the queue.
Google Tag Manager
We also provide the JavaScript Adapter Tag via Google Tag Manager. Search for Queue-Fair in the Community Templates Gallery, under Add Tag. Please note that some ad blockers prevent the download of the master gtm.js from Google, which blocks all operations of Google Tag Manager, including running the Adapter for those visitors.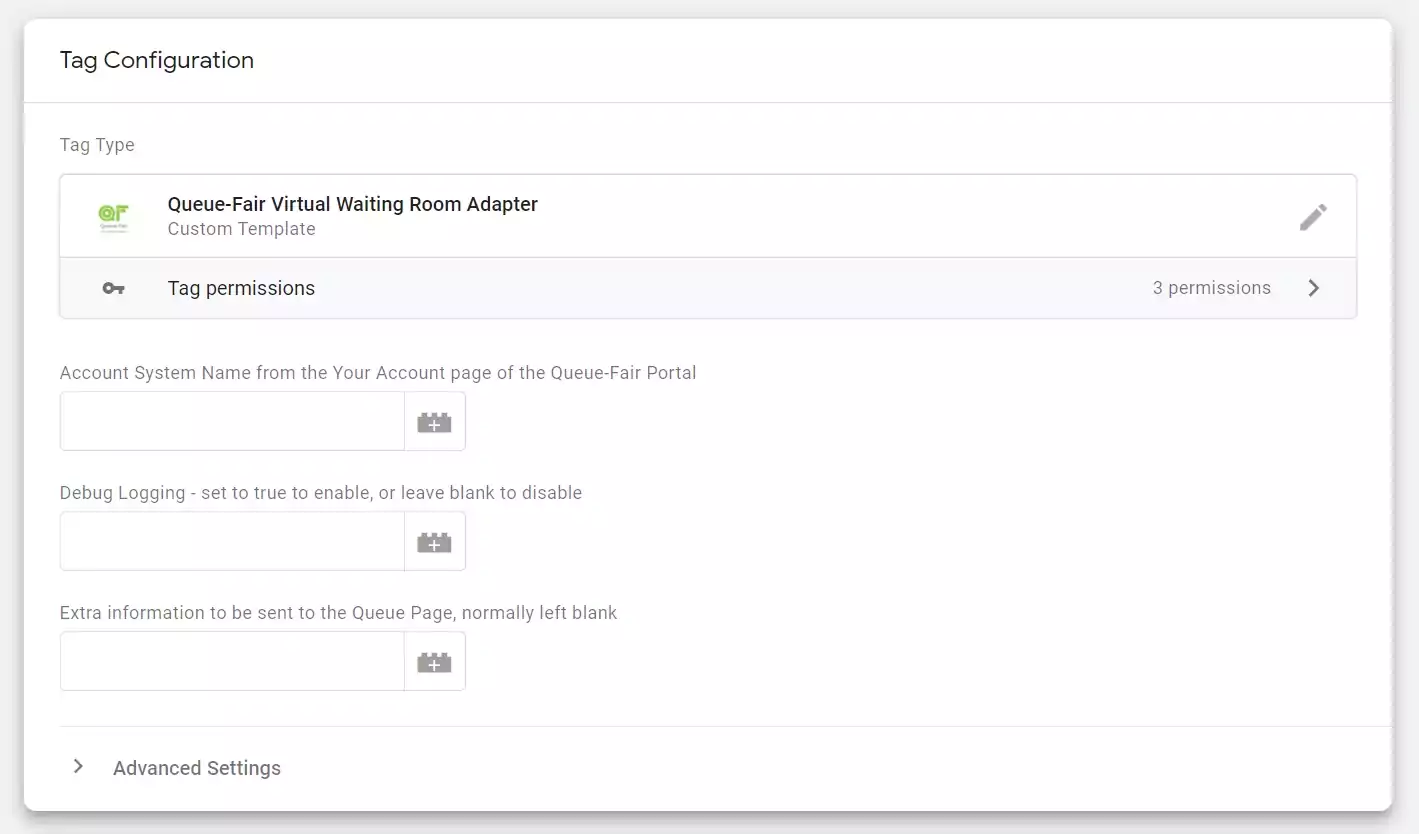 The GitHub repository for the Queue-Fair Virtual Waiting Room Google Tag Manager Client-Side Adapter Tag.
Dynamic Queue Pages
Any data you wish can be passed from your site to our servers and the Queue Pages your visitors see by using the data-queue-fair-extra attribute that is available in the Client-Side JavaScript Tag and the Google Tag Manager implementation. Please contact support if you wish to enable Dynamic Queue Pages on your account.
You can use this feature to customise Queue Pages on the fly. You can also use Queue-Fair to pass data that you send us with your visitors back to your site as they are Passed by the queue, for an additional layer of security.
We also provide a Dynamic Queue Page API that uses the extra data to customise any aspect of a Queue Page, so you can create one queue for your whole site and customise it automatically for different events or products on your site, without having to make any changes to your Queue Pages in the Queue-Fair Portal.
Shopify, Wordpress & WooCommerce
If you are using a Wordpress-based site, such as the WooCommerce shopping cart system, you can easily add the Client-Side JavasScript Adapter tag using the Wordpress Insert Headers & Footers Plugin, without having to modify any of your Themes or touch any Wordpress code.
Just download the Insert Headers & Footers Plugin, unzip it to your /wp-content/plugins/ folder, Activate the plugin in the Plugins menu, open the plugin from the Settings menu, add the tag to Scripts in Header as shown, hit Save at the bottom of the page, and you're done!
Shopify is just as easy - here are instructions for adding the Queue-Fair Client-Side JavaScript Adapter to your Shopify store.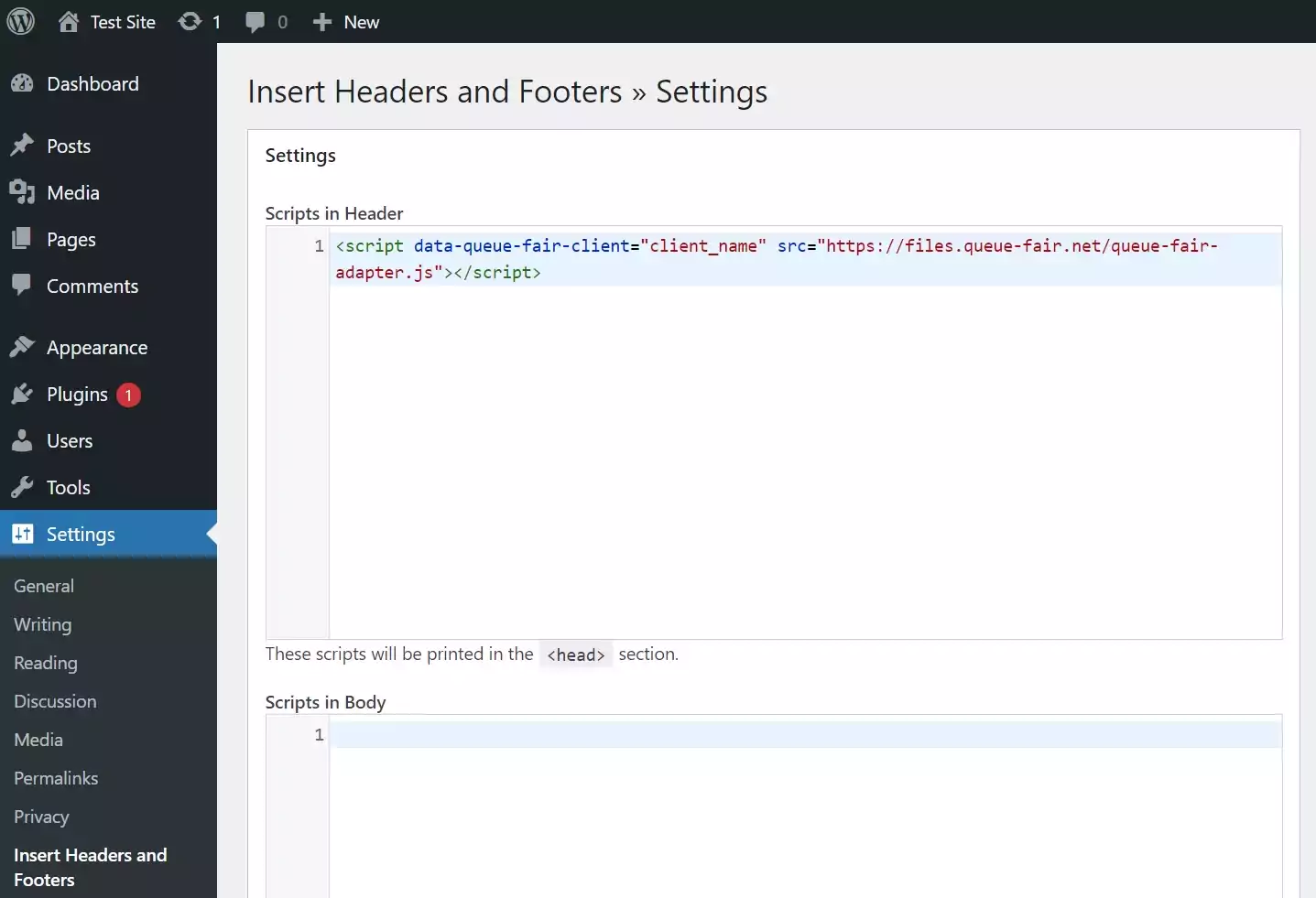 Client-Side Adapter Additional Resources
The Client-Side Adapter is fully described in the Technical Guide. The Technical Guide is available in the Queue-Fair Portal > Help section, or you can request a copy from us.