"A stress killer app! We knew there would be a rush of applications through a new eGovernment service we launched. We wanted to use the queue continuously for protection. Queue-Fair provided us with a branded Queue Page and easy-to-use tools to customise and manage our waiting room. Their support was excellent and a pleasure to speak with. Queue-Fair was continuously there for us and what is important for us is that we did get the service we needed. Thank you Queue-Fair!"
George Milis, Director & Innovations Manager, EUROCY Innovations
---
The Original Source of Online Fairness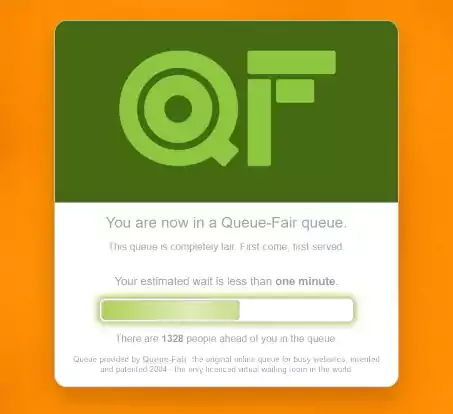 Keep your website open, regardless of demand.
Your biggest sales are your highest stakes events. You need flawless performance, not a crashed site.
Queue-Fair allows you to safely manage surplus traffic that would otherwise slow down or even crash your website, without spending on additional servers that you don't need the rest of the time.
Placing visitors in our patented first-come first-served Virtual Waiting Room ensures your website performs just when you need it most, and stops your website crashing. You're looking at the most powerful Virtual Waiting Room platform in the world.
Our customers tell us that the honesty and fairness we put in to our original invention shines in every aspect of what we do, from our documentation and Portal interface to our onboarding process and commitment to supporting you, and from the moment you contact us, we will do our level best to ensure that this is your experience of Queue-Fair too.
---
Convert more Visitors to Buyers with Queue-Fair
Queue-Fair helps you reach the buyers that would be lost to website crashes or slow responses when things get busy without our system in place. Remember, the average visitor will leave your crashed site if they don't see a response in just three seconds (source: Google) so just because your website is not completely down or you're not receiving error messages, this doesn't mean you aren't losing sales - indeed it could be happening right now and you might not even know - but we can find out for you; just contact us and ask for a performance audit.
As well as serving customers who would otherwise be lost, customers who arrive through a Queue-Fair Virtual Waiting Room are keener to buy, resulting in a higher conversion rate when the queue is active. They also get to see how popular you are! Having an active queue discreetly tells visitors that what you have to offer is valuable to many other people too.
Resellers wanted! Do you have customers, contacts or clients that need our service? Great! Let's help them together! Contact us for details of our reseller programme. Free enrollment.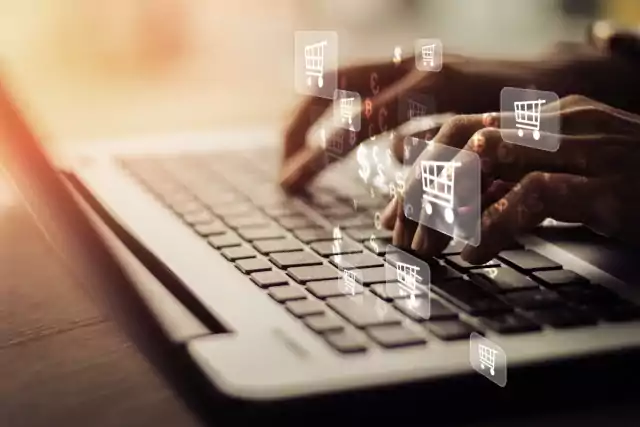 ---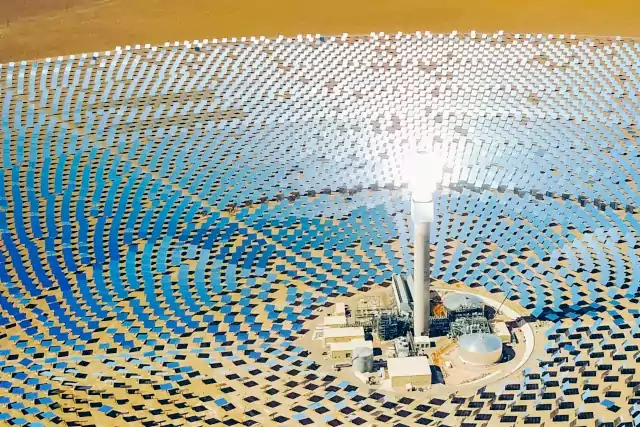 Efficient and green - the right kind of power
The most powerful Virtual Waiting Room platform in the world
Queue-Fair is, quite simply, the most powerful queue system on earth. Take a look at the chart below, which shows an example run of our three custom-built stress test machines against the ultra-efficient Queue-Fair virtual waiting room system.
The yellow line shows the number of new visitors joining the queue each minute. This ramps up as we turn on each stress tester to a whopping
2 Million
visitors joining in a single minute at peak-join at 19:50. The visitors that have joined the queue are still there, and at peak-queue at 20:00, Queue-Fair is fairly queueing over
21 Million
simultaneous visitors (pink line), providing updated estimated waits and progress information to every single one. That's over
ten times more
visitors than the largest queue ever reported by any of our competitors.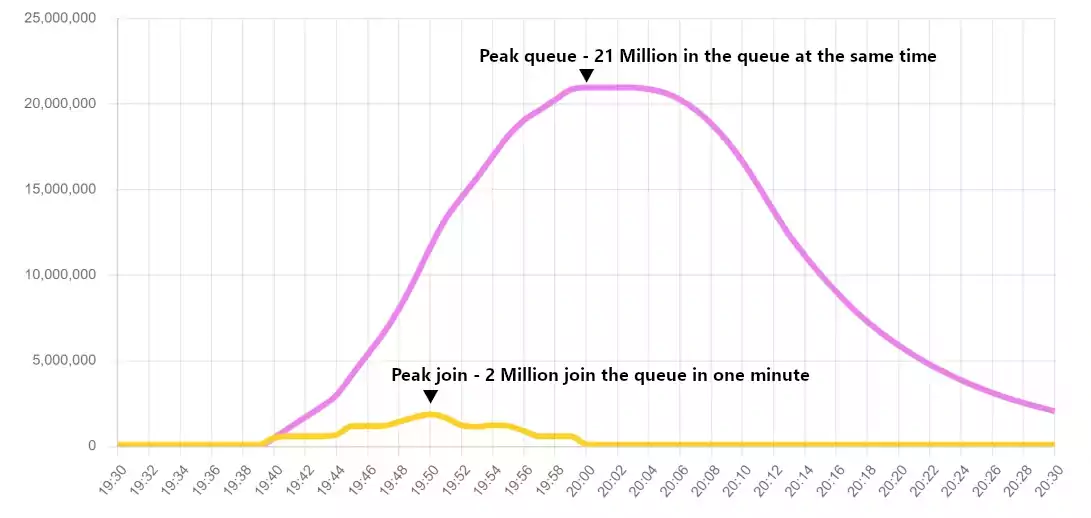 We know this chart may not look sexy to everyone. If you are into ultra-high-performance computing, saving the environment, or saving money for your business - then trust us, it's gorgeous.
What's truly astonishing is that this queue of over 20 million visitors is being handled by just one of our ultra-efficient queue servers - and even at the peak load of 21 million visitors in the queue at the same time, that server is only using half its processor capacity. The Queue Server in question is a Virtual Machine sitting in the Google Cloud, which means we can leverage the full power of Google's Edge CDN for super fast response times for page loads too. What's even more astounding is that this particular Virtual Machine is not even the most powerful VM we have - that one is over seven times faster than this. Furthermore, if someone were to ask us to queue more than 300 million visitors at the same time, we can just add more queue servers - our solution has the power of scalability too.
Just think about that for a moment. Queue-Fair can hold everyone in the world who has an internet connection in the same queue at the same time with just 12 Google Cloud VMs and still have room to spare. That's actually amazing. That's real power, right there.
That's not the limit of the Queue-Fair system's power. Here's a stress run showing how fast visitors can join the queue. You can see for yourself that this same ultra-efficient economical Queue Server comfortably handles almost 20 million visitors joining the queue in a single minute - that's well in excess of 300,000 joins per second - with a single VM and without breaking a sweat. CPU for CPU, it's the fastest queue server on the planet - and if you are curious why we are so much faster than the competition keep reading - the answer is below.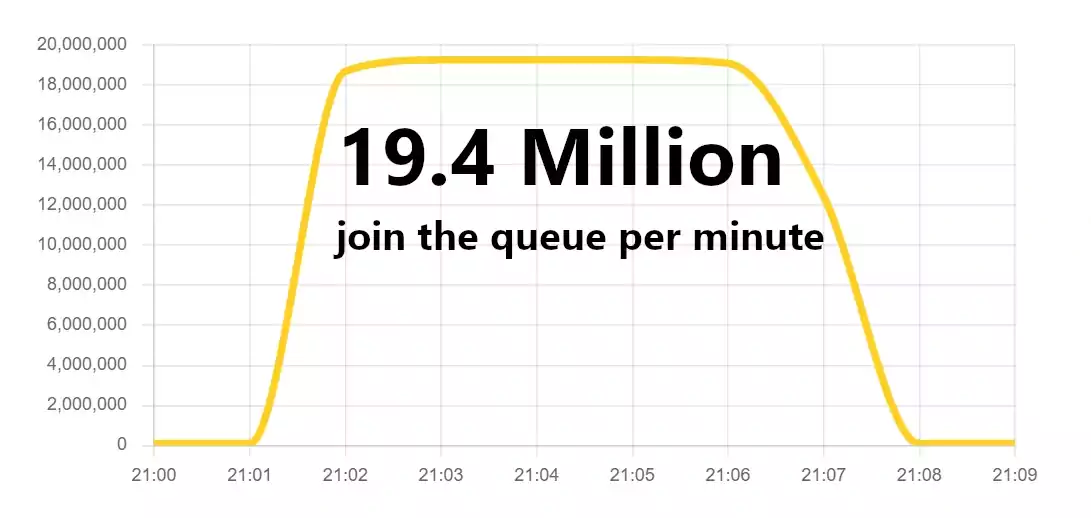 That's over 300,000 joins per second. Wow!
What's more, this kind of power is the good, clever, efficient, optimised kind, not the bad, power hungry, wasteful, resource-destroying, greenhouse-gas-emitting throw-lots-of-servers-at-it kind adopted by some other providers.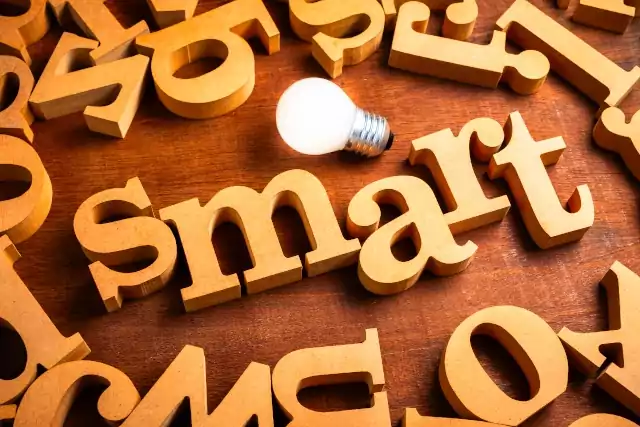 What does all this power mean for you? You would be forgiven for thinking "Well, I'm never going to need to queue 20 million people, so this means nothing to me" - but nothing could be further from the truth. You see, because our power is the smart kind of power, the result of careful load testing, skillful operating system tuning, judicious platform selection and decades of optimisation experience, this is the good kind of power that benefits all our customers as well as the environment.
It's the fact that our solution is so wonderfully efficient, so gracefully fast, so effortlessly speedy, that means we can handle your queue - any queue - with less compute expenditure than any other provider. Doing more with less means that we can provide our Virtual Waiting Room service to you at a lower cost than any other provider. Much, much lower. And, you won't ever need to worry about our Cloud-enabled servers running out of oomph or your visitors seeing a crashed site.
---
Queue-Fair is better value
All this efficiency means we can provide our Virtual Waiting Room service to any customer, large or small, at the lowest cost in the business. That's how we are able to guarantee at least 25% off any comparable surge protection quote - and customers who have switched to us often find they save very much more than that.
Queue-Fair is owned by the original inventor of the Virtual Waiting Room for busy websites, not a venture capitalist or equity fund. We're not under pressure to charge excessively high prices or hire huge numbers of staff to just to look like a big business. You don't need a team of hundreds to run the perfect Virtual Waiting Room - just people that are really really good.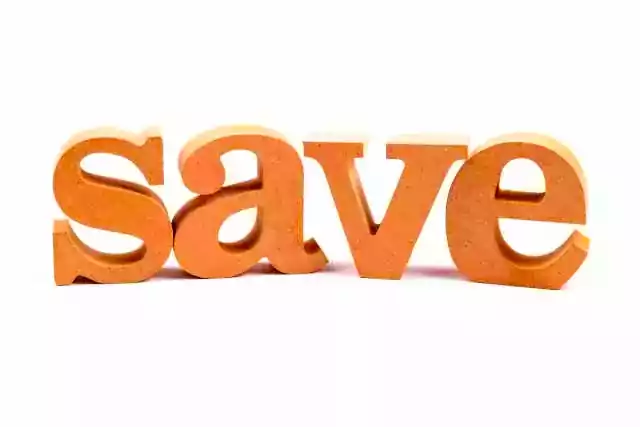 Our focus is on providing an honest, fair service at a reasonable price, to help as many people as we can with the highest quality Virtual Waiting Room service on the market, at the lowest possible cost. That's our mission. We're socially responsible, providing green and sustainable tech and the companies in our group do pay Corporation Tax.
Our solution is less costly to operate and we pass these savings on to you, which is why we are happy to offer you a 25% discount over any competitor quote.
---
Find out how much you could save
---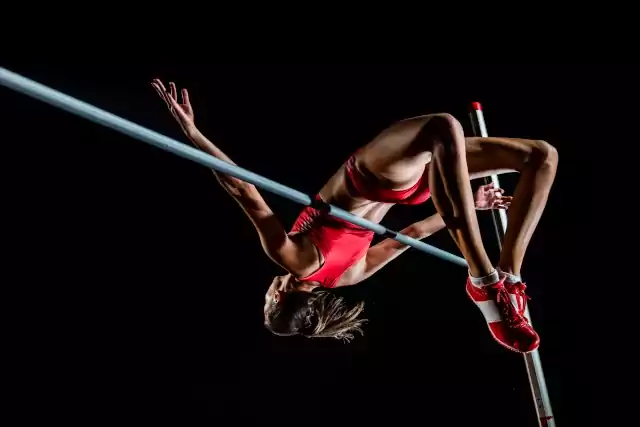 Take your business to new heights with our flexible solution
Queue-Fair: The power of flexibility
The power to save you money is not the only kind of power we have to offer. Uniquely in the industry, we give all our customers full access to the HTML behind the queue pages that their visitors see, and Edge CDN file space for assets on those pages - which means the entire queue experience is served away from your busy servers.
That means you have the power to make your queue pages look however you want them to look, and say whatever you want them to say, for a fully branded customer journey - and we'll help you get them just how you like, of course. Our customers always tell us our support is top notch - and you can see that in their own words in the quotes you'll see throughout this site.
While we're on the subject of power, Queue-Fair offers even more in terms of flexibility. For example, it's a snap to produce multiple variants of Queue Pages for different brands or languages, so people can be in the same queue, but have a different visual experience. Furthermore, once your Queue Page has been been created, it can even be customised on the fly automatically and dynamically as people enter the queue. Want some people to see a queue page with the name, branding and images of one event, and other people to see the name, branding and images of another? No problem. Want that done on-the-fly, without having to even edit the HTML, automatically customising itself for a new event or product on your site? Uniquely, we can even do that too - ask us about our Dynamic Queue Page system.
Get all these benefits by adding just a single line of code to your pages (or no lines at all if you use Google Tag Manager) - or if you want Server-Side integration, we have the power to do that for you too.
There's never been a better time to find out how the power of Queue-Fair can benefit your business. Why not start protecting your site and customers today - just ask for a Free Trial.